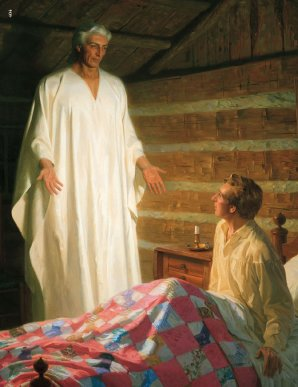 In his essay, Automaticity and the Dictation of the Book of Mormon, (available here) Scott C. Dunn argues that the Book of Mormon (BOM) is the product of automatic writing. He begins with the example of Helen Cohn Schucman and her three volume "A Course in Miracles" dictated to her by "by an inner voice that identified itself as Jesus Christ."
His second example is Jane Roberts who "conducted experiments" with the occult "which soon led her into contact with "Seth," a discarnate personality who spoke through the medium of Roberts's mind and voice. In these sessions, Roberts lapsed into a trance while Seth lectured on complex philosophical and metaphysical subjects beyond the educational experience of Jane Roberts herself." He also mentions Levi H. Dowling, author of The Aquarian Gospel of Jesus the Christ.
For the purpose of his essay, Dunn defines "automatic writing" as "the ability to write or dictate text in a relatively rapid, seemingly effortless and fluent manner with no sense of control over the content. Indeed, except for sometimes knowing a word or two moments in advance of writing and speaking, the individual is typically not consciously aware of what the content of the writing will be."
Dunn mentions channeled texts such as the Oahspe by dentist John Newbrough "who claimed that the book's angelic spirit authors controlled his hands on the typewriter each morning for fifty weeks."
Aleister Crowley wrote The Holy Books of Thelema under the influence of something he called his Guardian Angel. He said of his prose, "It is characterized by a sustained sublimity of which I am totally incapable and it overrides all the intellectual objectives which I should myself have raised."
How about someone a bit tamer? Dunn brings up Charlotte Bronte who "is said to have written her masterpieces Villette and Jane Eyre at a constant rate with her eyes shut. Dunn writes:
Calling her a "trance-writer," critics Sandra M. Gilbert and Susan Gubar quote entries from the author's journal that describe her visionary experiences and moments of "divine leisure" in which "the stream of thought…came flowing free & calm along its channel." Similarly, the English poet A.E. Housman once noted that entire stanzas of poetry would come into his mind all at once. More on the mystical side is the visionary William Blake, who claimed that his lengthy poem Jerusalem was "dictated" to him.
Anyone familiar with Joseph Smith can see where this is going.
Dunn continues examining the various forms that automatic writing have taken over the years. He multiplies examples, many of which have obvious parallels with Joseph Smith. One obvious parallel are people who use scrying stones:
In such instances, the individual may experience some sort of vision while the hand writes. Typically, the text reports what was seen in the vision, but in some cases, the stone-gazer sees written words […] One psychologist reports that a young boy dictated a fantastic adventure story, which he saw enacted in the crystal while his hand wrote automatically at the same time.
Dunn cites studies suggesting that automatic writing may be a product of "the unconscious mind." He also spends a good deal of time discussing Pearl Curran who experimented with an ouija board and produced the writings of one 'Patience Worth." Curran's writings, like Joseph Smith's, exhibited skills she should not have had, in her case it was the appearance of a massive number of Anglo-Saxon words, "proof" of their ancient nature. One scholar cited by Dunn calls these works a "philological miracle." Dunn also says:
Another startling thing about the works attributed to Patience Worth is their accuracy on factual details that Curran apparently could not have known, a defense often applied to writings given through Joseph Smith […]
Dunn says, "Pearl Curran is like Joseph Smith in still another way: for both, available evidence militates against the likelihood of conscious fraud." Dunn then outlines evidence for the BOM being a product of automatic writing:
…the content of automatic writing is often similar to that of the Book of Mormon: Examples include multiple authorship, use of archaic language, accounts of bygone historical figures, accurate descriptions of times and places apparently unfamiliar to the writer, narratives with well-developed characters and plot, accounts of various ministries of Jesus Christ, poetics, occasionally impressive literary quality, doctrinal, theological, and cosmological discussions, and even discourses by a deity. […]
In addition, the bulk of the Book of Mormon, dictated after Oliver Cowdery became Smith's scribe, was completed in approximately ninety days. This represents fairly rapid work for a book of this length-588 typeset pages in the first edition-even if the translation progressed will every day. Again, the speed and ease with which Smith worked is characteristic of automatic writing.
Dunn mentions that Smith "pronounced the words of the text with his face buried in a hat, looking at a seer stone" and concludes that "This certainly implies a relatively effortless or automatic process. Moreover, this use of a crystal or stone is a well-known method of producing automatic writing."
Smith had time to think through themes for the BOM before he launched his project, but Dunn says this isn't unusual for automatic writing:
Before producing Oahspe, John Newbrough was visited by its angelic authors, asked if he would "perform a mission for Jehovih," and was told to prepare for this experience…Finally, ten years after the first visitation, the angels told him to proceed with the automatic typing of their work.
Dunn brings up one critic, the ever-present Blake Ostler, and writes:
Blake Ostler has put forth what is essentially an automatic writing model, though he is reluctant to call it that. He states that Smith's "state of consciousness differs from…most reports of automatic writing in that he did not lose consciousness of his surroundings or become dispossessed of his personal identity," apparently unaware that the same is true of A Course in Miracles and all of the Patience Worth literature. "Further," Ostler continues, "there is no evidence that [Smith] claimed to hear a voice or take dictation from another personality, unlike cases of spirit writing or channeled text." But this also applies to such dramatic instances of automatic writing as The Aquarian Gospel of Jesus Christ and The White Goddess. In spite of his attempts to distance Smith from these works, nothing in Ostler's characterization of the translation process is inconsistent with the best-documented instances of the this phenomenon.
One well-known feature of the Book of Mormon (BOM) is its reliance on the Authorized version of the Bible. I have often wondered if Smith just pulled out the Bible and dictated these sections of the BOM from it, but Dunn addresses how these sections might have happened under an automatic writing model:
Just as individuals under hypnosis have been able to quote lengthy passages in foreign languages which they heard at the age of three, so have automatic writers produced detailed information from books that they have read but in some cases cannot remember reading. Thus, if Smith's scriptural productions borrowed material from the Bible, this is entirely consistent with other instances of automatic writing. This quirk of memory, known as cryptomnesia, may also explain the presence of styles and literary patterns that are found both in the Book of Mormon and the Bible.
Another common question is how Smith addressed the origin of Indians and certain theological concepts of his day in such detail if he didn't have access to the texts current in his day? Dunn says:
But automatic writing renders such a question irrelevant. Automatic texts often contain information available to the writer in the most obscure manner imaginable. One researcher described a woman who, with a ouija board, produced automatic writing that recounted "almost exactly" the death notices in an available newspaper. Although the woman apparently had not read these obituaries, she had done the crossword puzzle found on the same page in the newspaper. It seems that her mind had picked up and stored material that was in her field of vision as she worked the crossword puzzle; she had unconsciously read and unconsciously written information of which her conscious mind was entirely unaware. Interestingly, the researcher further reported that the writing contained information to which the woman had no access whatsoever. It should not be surprising, therefore, to find Smith's scriptural productions repeating things he may have heard or overheard in conversation, camp meetings, or other settings without any concerted study of the issues.
Dunn ends his fascinating essay with a series of questions about what makes scripture into scripture? He really doesn't have an answer. The test should clearly be doctrinal fidelity with previous Scripture, namely the Old and New Testaments. He doesn't pose this as a test, but he should have.
I believe Dunn's proposal to be the best explanation for the authoring of the BOM. Other explanations are a bit rag-tag in proposing dependence on this or that text, or the penmanship of Cowdrey or Rigdon. What he fails to consider is the possibility of demonic influence/dictation. Perhaps automatic writing is a combination of the subconscious with demonic guidance. I have addressed this before in relation to Socrates, who claimed demonic inspiration. Socrates said:
There is something spiritual which, by a divine dispensation, has accompanied me from my childhood up. It is a voice that, when it occurs, always indicates to me a prohibition of something I may be about to do, but never urges me on to anything ; and if one of my friends consults me and the voice occurs, the same thing happens : it prohibits, and does not allow him to act. And I will produce witnesses to convince you of these facts.
As the Apostle Paul warned us, even an angel from heaven might appear bearing a false gospel.