"The one who states his case first seems right, until the other comes and examines him." Proverbs 18:17
John Rucyahana recruited and raised funds for M23,1 wrote an editorial calling for the secession of provinces in the neighboring DRC,2 denounced Europe at the behest of Paul Kagame,3 is connected to warlord Bosco Ntaganda,4 is connected to shady business deals around the Hotel Ishema5 and is the head of NURC, a position in the Kagame government. Paul Kagame, the Rwandan dictator, confirmed church support for M23,6 a terrorist group that violated all Biblical norms7 in conducting rape, child kidnapping8 and torture in its short existence. But none of these facts has stopped Anglicans from appearing with Rucyahana repeatedly,9 including a new appearance next to current Bishop Laurent Mbanda.
When questioned about Rucyahana's blatant ties to the Kagame regime, the best that American Anglicans can come up with is to say that Bishop John is no longer in the House of Bishops and has denied any involvement with M23.10 Furthermore, they say that all of his work is done as a private citizen. Hands are thereby washed! As I never tire of pointing out, accepting Rucyahana's denials on this matter given his public statements and appearances with Kagame is akin to approaching John Edwards about his affair prior to evidence appearing of his fathering a child proved beyond a reasonable doubt that he did in fact have an affair. Had you asked Edwards about an affair (and people did) you would have heard fervent denials. And even that example is weak compared to the evidence we have of Rucyahana's affection for Kagame,11 and yet Americans are content to take him at his word and leave it alone. I wonder why that is? Whatever the reason, it points to a total failure of critical thinking on the part of American Anglicans.12
Now, I would think that "apolitical" bishops like Mbanda would at least not want to be around Rucyahana in public given his M23 notoriety in United Nations reports – confirmed, I might add, by my own conversations which I cannot reveal in public. But instead, Rucyahana put in an appearance in 2013 at a Couple's Conference put on by the Anglican Shyira Diocese headed by Bishop Mbanda.
And now, we see this:
Bishops Rucyahana and Mbanda with Rwanda's first lady during umuganda (see below for an explanation of what umuganda is).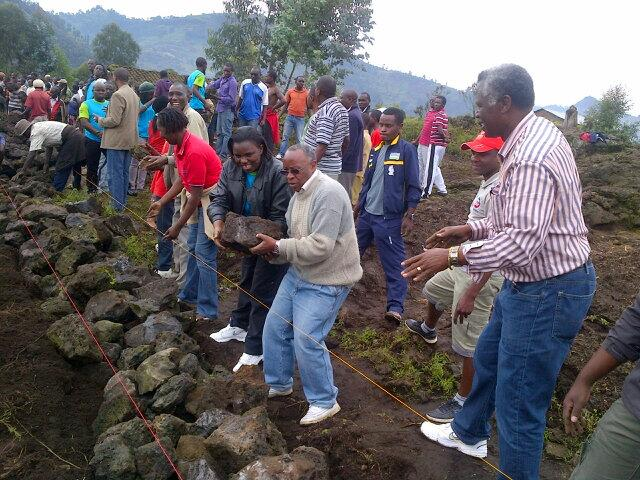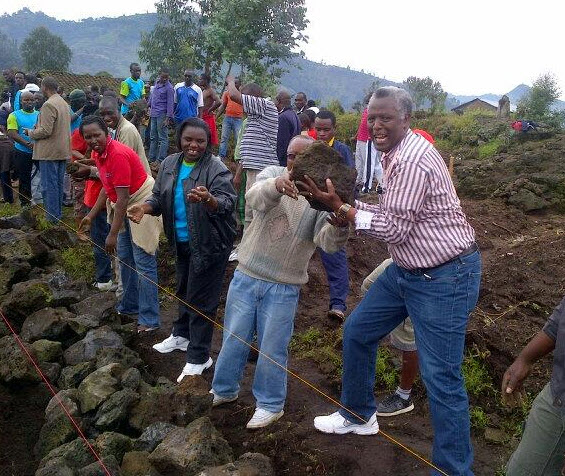 The tweet says: "#GlobalUmuganda: Bishops Mbanda, Rucyahana, Min in Presidents office join #Rwandans &Global Citizens in Umuganda pic.twitter.com/hT6hZIZJVm".
Note that it calls Rucyahana a Minister in the President's office, which is what he is.
My conclusion is that either the political situation in Rwanda prevents Bishop Mbanda from cutting off contact with Rucyahana and denouncing him, or, he in fact has no problem with Rucyahana's close relationship with President Kagame, as Mbanda himself has called Kagame's government, "visionary." Either way, PEAR USA has made its bed with shady characters, and now must lie in it.
A note on umuganda
Penine Uwimbabazi describes umuganda thoroughly in her dissertation, "An Analysis of Umuganda: the Policy and Practice of Community Work in Rwanda." She says:
Community work is known as umuganda in Kinyarwanda, the local language spoken throughout Rwanda. Currently, umuganda is compulsory for everyone and is generally undertaken on the last Saturday of every month. However, there are informal umuganda activities that are organised in the middle of the month, either by the government or by civil society organisations. Consequently, beside the national policy of umuganda the study identifies what one can call informal umuganda. Umuganda, in general, is currently used as a platform to implement governmental programmes,
She goes on to say:
Although the current practice of umuganda is certainly different from that of the colonial period, an elder from Western Province doesn't see much difference. [She quotes an elder here] He noted:

They [Rwandans] asked for independence but they did not know what they were doing because if you look closely, you find that colonial masters have gone nowhere. They have chased them but they have not gone. They have left every single side of their mind and behaviour. I mean in the early days, umuganda was for the community self-solving its problems but now it is for solving political problems" (EL 9-b 22 Dec 2010).

The current practice of umuganda does not compel people to work on tea or coffee plantations but they are, in effect, 'forced', for example, to build additional classrooms and to build and maintain roads.
Filip Reyntjens says: "umuganda…is an indirect but effective taxing system."
And Susan Thomson shows how umuganda works for Rwanda's poorest:
Some men in their late forties and early fifties who participated in my research reported that the poorest of the poor "had to report for umuganda at least one or two days a week or suffer imprisonment of worse" (interviews 2006). They also told me that as the poorest of the poor had to report more frequently in those days because the authorities told them, "Since you don't work for money, you will come work for the state and we will feed your families."…When local officials actually delivered food to families as promised, it was "usually rotten or infested" (interviews 2006).
---