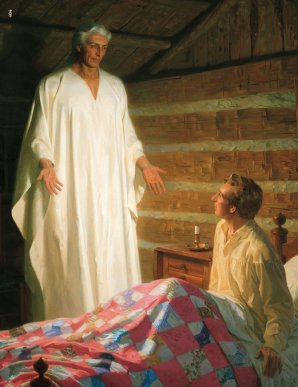 One well-known feature of the Book of Mormon (BOM) is its reliance on the Authorized version of the Bible. I have often wondered if Smith just pulled out the Bible and dictated these sections of the BOM from it, but Dunn addresses how these sections might have happened under an automatic writing model:
Just as individuals under hypnosis have been able to quote lengthy passages in foreign languages which they heard at the age of three, so have automatic writers produced detailed information from books that they have read but in some cases cannot remember reading. Thus, if Smith's scriptural productions borrowed material from the Bible, this is entirely consistent with other instances of automatic writing. This quirk of memory, known as cryptomnesia, may also explain the presence of styles and literary patterns that are found both in the Book of Mormon and the Bible.
Another common question is how Smith addressed the origin of Indians and certain theological concepts of his day in such detail if he didn't have access to the texts current in his day? Dunn says:
But automatic writing renders such a question irrelevant. Automatic texts often contain information available to the writer in the most obscure manner imaginable. One researcher described a woman who, with a ouija board, produced automatic writing that recounted "almost exactly" the death notices in an available newspaper. Although the woman apparently had not read these obituaries, she had done the crossword puzzle found on the same page in the newspaper. It seems that her mind had picked up and stored material that was in her field of vision as she worked the crossword puzzle; she had unconsciously read and unconsciously written information of which her conscious mind was entirely unaware. Interestingly, the researcher further reported that the writing contained information to which the woman had no access whatsoever. It should not be surprising, therefore, to find Smith's scriptural productions repeating things he may have heard or overheard in conversation, camp meetings, or other settings without any concerted study of the issues.
Dunn ends his fascinating essay with a series of questions about what makes scripture into scripture? He really doesn't have an answer. The test should clearly be doctrinal fidelity with previous Scripture, namely the Old and New Testaments. He doesn't pose this as a test, but he should have.
I believe Dunn's proposal to be the best explanation for the authoring of the BOM. Other explanations are a bit rag-tag in proposing dependence on this or that text, or the penmanship of Cowdrey or Rigdon. What he fails to consider is the possibility of demonic influence/dictation. Perhaps automatic writing is a combination of the subconscious with demonic guidance. I have addressed this before in relation to Socrates, who claimed demonic inspiration. Socrates said:
There is something spiritual which, by a divine dispensation, has accompanied me from my childhood up. It is a voice that, when it occurs, always indicates to me a prohibition of something I may be about to do, but never urges me on to anything ; and if one of my friends consults me and the voice occurs, the same thing happens : it prohibits, and does not allow him to act. And I will produce witnesses to convince you of these facts.
As the Apostle Paul warned us, even an angel from heaven might appear bearing a false gospel.